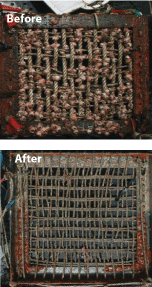 Product Highlights
Durable


Anti-Microbial


Anti-Bacterial


Water Repellant


Rust Protector


Salt Protector


The adhesion of unwanted, nuisance barnacles, mussels or other sea life to fishing nets is known as 'fouling'. Every three months fish nets must be pulled out of the water and cleaned. However, with Barnacle-Free Fish Net Coating applied to the nets, 50% to 100% reduction in fouling is noted in field trials.
Barnacle-Free Fish Net coating is a two part non-toxic epoxy and hardener system. Apply on fish nets and other aquaculture equipment like abalone, tilapia and salmon nets, crab and lobster traps. Barnacles, mussels or other sea life are prevented from growing on the netting or equipment because of the anti-bacterial and anti-microbial properties of the epoxy system which prevents adhesion of sea life.
Contact us for more information!