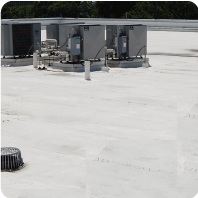 Brochure

MSDS (Material Safety Data Sheet)

TDS (Technical Data Sheet)

Instructions

FAQs
Product Highlights
Durable


Reflective


Cool


Cut Energy Costs


Cures in Natural Sunlight


Good Adhesion


Sustainable


Dark roof materials heat quickly in the sun and retain the heat throughout the day. On hot summer days or in hot climates, this can result in significant heat retention...as much as 70° F (40° C) warmer than a light or white roof. In a city, the cumulative effect of many dark roofs together create a 'heat island' effect, creating a scorching hot environment.
HiOmega® CoolRoof is a easy fix to heat retaining roofs. The white, reflective coating reflects the sunlight, does not retain heat like dark roofs and can be applied over existing roof materials. Applying a HiOmega® CoolRoof can cut energy costs, reduce air conditioning and offset carbon emission.
HiOmega®CoolRoof adheres well to most roofing materials. Simply apply with a brush, roller or sprayer on a clean dry roof. Can also be applied to pavements, sidewalks and parking lots.
Eco-friendly, zero VOC, renewable and sustainable, HiOmega® CoolRoof is also water repellant and durable -- holding up to the toughest conditions.