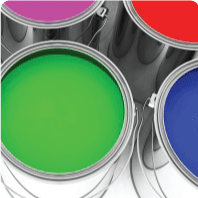 Brochure

MSDS

TDS

Instructions

FAQs
Product Highlights
Durable


Acid Resistant


Chemical Resistant


Good Adhesion


Abrasion Resistant


Solvent Resistant



Paints Based on Epoxy Resin
Use zero VOC, environmentally friendly HiBondTM ELO as a base for high performance paints. The oxirane value of HiBondTM ELO is 60 % higher than epoxidized soybean oil which translates into 60 % more functionality when used at the same levels. Therefore, paints based on HiBondTM ELO will have superior durability, chemical, solvent and acid resistance and excellent abrasion resistance. Infinite colors and gloss levels can be achieved by adjusting pigments and additives. HiBondTM ELO based paints have excellent adhesion to metal, wood, paper, concrete and other substrates.
Paints Based on Alkyd Resins
Use zero VOC, environmentally friendly HiOmega® alkyd resins as a base for gloss, semigloss and satin paints used on trim, doors, bathrooms and other high traffic areas. Available in long, medium and short oil alkyd resin. HiOmega® alkyd resins have superior performance characteristics when compared to traditional linseed oil alkyd resins. Paints using HiOmega® alkyd resins are harder, tougher and more resistant to chemicals and abrasion.